The Vegetation of Wisconsin
The Vegetation of Wisconsin; An Ordination of Plant Communities
John T. Curtis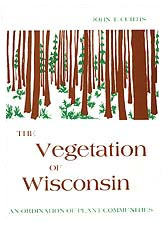 One of the most important contributions in the field of plant ecology during the twentieth century, this definitive survey established the geographical limits, species compositions, and as much as possible of the environmental relations of the communities composing the vegetation of Wisconsin.
"There is much food for thought for the conservationist ... clearly a major contribution for plant ecology in general as well as to the information concerning the vegetation of Wisconsin." -Audubon Magazine
"No ecologist concerned with the description of plant communities and assessment of their relationships with one another and with the environment can afford to ignore the lucid and penetrating discussion of these problems presented in Professor Curtis's stimulating text." -The Journal of Ecology
Until his death in 1961, John T. Curtis had been for many years a professor of Botany at the University of Wisconsin. A scholar of international standing, he had served on advisory panels of the National Science Foundation and had held posts such as the Research Director of the Societe Haitiano-Americaine de Developpement Agricole and Chairman of the Wisconsin State Board for Preservation of Scientific Areas.
Published by The University of Wisconsin Press, Click here for detailed purchasing information.
Text presented here courtesy of University of Wisconsin Press.